Feds In Motion Challenge
ACROSS THE U.S. AND AROUND THE WORLD
Date: May 1 – June 5, 2022
Location: Across the U.S. and Around the World

Our first Feds In Motion Challenge was a huge success, with more than 1,300 participants from all 50 states, DC, Puerto Rico, and international locales. Together we raised more than $95,000 to support FEEA's programs. Check out our slideshow to see just a few of our Challenge participants!
We had so much fun, we're doing it again!
Our Feds In Motion Challenge kicks off Public Service Recognition Week (#PSRW) and is all about moving in your favorite way — walk, run, bike, swim, or roll your wheelchair on your favorite route — to reach the goal of 36 miles (or more!) in 36 days.
Participants get:
T-shirts* (with a choice of men's or women's styles!)
participation medals
digital bibs
easy ways to upload your mileage anytime and a leaderboard
digital finisher certificates
fun digital badges for mileage milestones and fundraising achievements
special Wellness Wednesday events with prize drawings
other cool swag
prizes for top fundraisers
We'll be mailing many of these items to participants, so please be sure to use your shipping address when you register! Registration may remain open beyond May 1, but *April 15 is the last day to register with a guaranteed t-shirt!
Participate on your own, or grab friends, family, co-workers, and neighbors to form a virtual team. Teams of 5 or more get $5 off the registration price. Learn more about how to form a team in the sidebar on the right.
All proceeds from the event support FEEA: The Federal Employee Education and Assistance Fund's disaster relief, emergency hardship loan, and scholarship programs. Learn more about how we've been helping during the pandemic and more in our 2020 Annual Report.
Join us in raising $36 for 36 years
During registration, an individual and/or team fundraising page will automatically be created for you. You can customize this page during or after registration, or leave the default settings and just get started. We're asking all Challenge participants to help us raise at least $36 to support FEEA's programs. We'll have special prizes for top fundraisers and badges for milestones along the way. Your support in this effort and the contributions of the friends and family you ask to donate will make a huge difference in our ability to continue serving federal families in 2022 and beyond.
2021 swag pictured/2022 versions coming soon!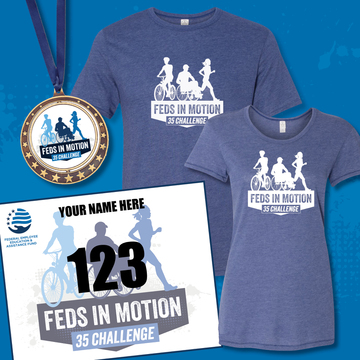 1
T-shirts available in both men's and women's styles, from S-XXL
Last day to register w/guaranteed t-shirt is April 20!
2
Downloadable digital bibs to print and wear, or share on social media
3
Participation medals for all
(Sponsor logos on back of shirts)
Thinking about forming a team for this Challenge? It's easy!
During registration, you'll have the option to form or join a team. If you're starting a new team, you'll enter a team name, give a bit of information as the team captain, and then complete your registration. You can then share your team link with others, or just give them the name to look up during registration.
If you're joining an existing team, you'll either use the link provided by your team captain, or select the "form or join a team" option during registration and search by name for the team you'd like to join. Choose your team from the list and complete your registration.
Once a team reaches 5 members, the registration fee will be discounted by $5 per person and those who have already registered at the higher price will receive an automatic $5 refund to their original payment method.
Start your team today!
Frequently Asked Questions
What types of activity can I log?
The Feds In Motion Challenge allows you to reach your goal by walking, running, cycling, swimming, or rolling (for our wheelchair participants). Other types of activity are great, but they are not part of this challenge.
How do I log my miles?
There are two easy ways to enter your miles:
Login to your RunSignUp account and click the button to "Submit Virtual Results"; or
Go to the main race results page and click the "Submit Virtual Results" button near the top of the page
Help! I made a mistake logging my miles.
Good news! You can fix it yourself. Here's how:
Log into RunSignUp
Go to your profile
Click on "Submit Virtual Results"
Scroll down until you see "Previous Activities"
Click on "manage activities"
Click on the little pencil & paper icon next to the record you want to change, or the trash can if you want to delete it
In edit mode, you can change the date, activity, and/or mileage
Why can't I access my account to log miles?
You must be logged into your RunSignUp account to access your registration and see other information. If someone else registered for you, you may not have a RunSignUp account yet. The easiest way to check is to go to the "Find a Participant" page and type in your name. If you see "Is this you?" next to your name, it means you have not yet claimed your registration and created an account.

Click on "Is this you?" and follow the prompts to create your account.
If you don't see "Is this you?" it means you already have an account and may need to use the forgotten password option to access your account. Please also check that you're using the same email you used to register for the event! If you still can't get to your account, RunSignUp can provide technical assistance if you create a help ticket.
How do I get my digital bib?
If you would like to print, download, or share your digital bib, log into your RunSignUp account and look for the Challenge under your "Upcoming Events". You'll see the "View Digital Bib" option in the menu items on the right-hand side (or below if you're on a smartphone). See below for an example of the desktop/laptop view.

Hey! How did someone walk 1,000 miles in one day??
Everyone makes mistakes. Sometimes a "point" gets left out and miles get logged as 123 instead of 12.3, or a step count inadvertently gets logged instead of miles. Rest assured your Challenge admins are keeping an eye on things and contacting participants to fix anything that looks wildly out of whack!
Where's my swag box?
Boxes will begin shipping via USPS in late April. Please be patient as our small staff will be working hard to keep up with demand and shipping times have increased in many areas. Rest assured, everyone who registered by the deadline will receive their swag box, it just may take a little while.
You will receive an email when your box is on the way!
Interested in becoming a sponsor? Check out our brochure.
Mailing Address
FEEA
1641 Prince St.
Alexandria, VA 22314