Our Dietician Uncovers the Winning Formula to Healthy School Lunches to Keep Them Nourished and Happy Throughout the School Year
Getting your child to welcome a healthy habits with nutritious choices can be a challenging feat. Between the powerful marketing efforts of food manufacturers with bright packaging lining supermarket shelves, the convenience of pre-packaged processed foods, and the addictive nature of sugar, you have a lot working against your kids' nutrition.
According to the CDC, empty calories from added sugars and solid fats contributed to 40% of daily calories for children and adolescents age 2-18 years. Six sources accounted for a majority of the sugar intake coming from soda, fruit drinks, dairy desserts, grain desserts, pizza, and whole milk. With soda, sports drinks, and fruit drinks leading intake among children and adolescents, this means that most youth do not consume the recommended amount of water each day.
We caught up with Jen Vattimo, a Registered Dietician based out of Wilmington, Delaware to talk about misconceptions with managing healthy diets and how parents can instill healthy habits. Her go-to ideas will make meal planning and nutritious choices sustainable for you and your family.
Q: What are issues you see with younger patients and the effects of poor diets?
Jen: Many people do not realize the effect that a poor diet can have on children. Not only does a healthy diet help children to grow, mature, and develop, it also can help reduce the risk of developing chronic diseases. Academically, healthier students tend to be better learners, while students that have unhealthy dietary behaviors have been correlated with poor grades and test scores and lower education achievement.
In fact, the 2019 national Youth Risk Behavior Survey (YRBS) showed that "students with higher academic grades are more likely to engage in healthy dietary behaviors compared to students with lower grades." In addition, we can also correlate a poor diet with changes in bowel habits, fatigue, tooth decay, behavioral problems, sleep issues, poor concentration at school, and even emotional or psychological development.
Q: What are common misconceptions about packing a healthy lunch?
Jen: One misconception is that when packing lunches, they need to be "perfect." Many parents become overwhelmed trying to pack the healthiest of lunches or think that if they pack a healthy lunch, their children will throw it away. They may also believe that a healthy lunch must contain certain foods when there are no set rules. Another common misconception is thinking that a healthy lunch will be very expensive when in reality, and it can actually be very budget friendly.
Q: How can parents instill healthy eating habits?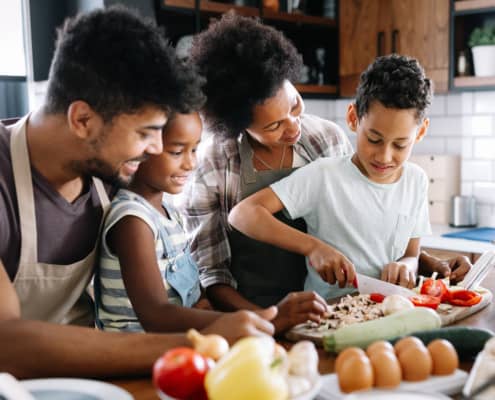 Jen: Start by modeling healthy habits and nutritious choices as much as possible. Children pay attention to minor details such as parent's attitudes, habits, and decisions around eating and may copy those behaviors whether positive or negative.
When possible, provide structure and consistent meals and snacks.
At meal and snack times, allow children to gauge their physical hunger and fullness to determine how much to consume.
It is also beneficial for parents to encourage the consumption of a variety of foods while modeling a neutral attitude. In a diet culture that is consumed with so much inaccurate information regarding nutrition, it is vital that parents promote a positive body image as much as possible.
For example, explaining to children how to trust their bodies' physical hunger and fullness cues that can tell them when and how much to eat and when to stop can be very beneficial. It is important for children to learn that we are accountable to provide our bodies with the nutrients that it needs from a variety of foods, but also that we can enjoy certain foods eaten simply for pleasure without guilt and in good health. Having a balanced approach to eating can help to prevent disordered eating behaviors.
Finally, seek guidance from a trained expert if you feel it could be beneficial for your family. A nutritionist, for example, can provide personalized ideas and suggestions to help your family.
Q: Can I get my kids involved in the process?
Jen: Having children get involved in the process can be very beneficial. When children are more involved, it can instill healthy habits.
Have children help with tasks suitable for their age, such as stirring ingredients together, wrapping sandwiches, or cracking eggs. By having children involved, it can help them learn cooking basics or even utilize math skills as they combine ingredients. It can also be a great opportunity for quality time and to encourage communication about nutritious choices or to learn about the ingredients being used. In addition, often when children are more involved in the preparation process, they tend to be more eager to try new foods.
Q: What should parents aim for when packing lunches?
Jen: When packing healthy school lunches for children, try to make the meals fun and a meal that your child can look forward to. Aim for lunches to be nutritious, balanced, and try to include a variety of choices. Try to choose one item from each of the following categories: fruit, vegetable, grains (preferably whole grain), meat or alternative, and dairy or alternative.
Foods high in protein can help provide sustained energy throughout the day, while foods that are higher in fiber such as whole grains, vegetables, and fruits can help to keep children full. When trying to introduce a new food, try pairing it with a familiar or favorite food. This often can increase the chances of a child to try a new food.
Q: What about the drink?
Jen: Choosing a healthy drink for your child is an important part of kids' nutrition. Try to limit drinks with too much added sugar and include choices that are nutrient dense.
First, water is an excellent choice for replenishing fluid loss from sweat and activities. Milk is another beverage that contains many nutrients, such as protein, potassium, Vitamin D, and calcium. Yogurt drinks also are usually high in protein and calcium, count as a serving of dairy, and provide many of the benefits of yogurt in an easy to consume and transport option. Fortified non-dairy drinks such as soy milk, almond milk, and brown rice milk, for example, can be a healthy beverage alternative in your meal planning toolkit. 
When choosing juice, look for options that are labeled as 100% juice instead of "juice drink" that usually contain added sugar.
Q: What are some ways to make meal planning and packing process quick and easy so it sticks?
Jen: There is no one way to meal prep and plan. It is important to try different ways of meal planning to see which style fits best for your family. Remember, this can change over time too! The key to sustainable meal planning is to adapt to various changes in your life.
Q: What can you do to help ensure your child is eating a healthy meal if you are opting for school lunches?
Jen: Spend some time with your child discussing a healthy balanced diet. While encouraging them to make healthy choices when opting for school lunches also emphasize that all foods fit. This will help promote a healthy relationship with foods.
In addition, encourage conversation about what foods they ate, how they tasted, what they liked or disliked. This may offer more insight into what choices they are making and of offer suggestions for future choices. Overall, remember that this is only one meal out of their whole day. If this one meal does not contain the most nutritious foods, there are still many opportunities to consume nutrient-dense foods throughout the day.
Establishing a routine of healthy eating habits can seem like a mammoth task, but as with any skill, it requires patience, practice, and perseverance. With the right strategies, tools, and mindset, it's possible to inculcate these habits not just in our children, but also in ourselves. Healthy eating is more than just a diet – it's a lifestyle. It's about nourishing the body, mind, and soul. And as parents, it's our responsibility to lay the foundation for a lifetime of healthy eating choices. So, the next time you pack that lunch or plan a meal, remember that you're not just filling a lunchbox – you're fueling a future.
More on Healthy Eating from FEEA
SUBSCRIBE TO FEEA'S NEWSLETTER
Would you like to reprint this piece in your agency human resource, federal employee association, or union local newsletter? You can do so at no cost by contacting admin@feea.org with your request.
The information provided in this piece is for your convenience and informational purposes only and not to be construed as professional advice. FEEA and its coauthors and sponsors are not liable for any losses or damages related to actions or failure to act with regard to the content in this piece.