Click on the questions below to toggle open the answers!
What does the online tutoring look like and how does it work?
FEEA partners with Tutor.com, a service of the Princeton Review to provide the online tutoring. Once you registered and are approved by FEEA (apply here) you will be given one login for all of your children to share to access the Tutor.com platform and meet with tutors.
At Tutor.com students can:
Work with a tutor from any internet-connected device
Connect to an expert tutor on demand 24 hours a day, 7 days a week
Get personalized tutoring help online three ways: request a tutor's help right now, schedule a future tutoring session or upload a document for offline review
Use the free Tutor.com To Go™ app for iOS and Android mobile devices
For more on how tutoring sessions work and what the tutoring interface is like, we recommend:
Visiting the Practice Classroom, where you can test/learn how to use the tools available in the virtual classroom space with the help of a bot
Checking out the How-It-Works Guide, which has lots of useful information in an easy-to-understand format
Watching short videos on:
Who is eligible?
Children in grades K-12 of current, regular hire, federal civilian and postal employees who earn a full-time equivalent annual salary of under $100,000 per year.
Coast Guard and Department of Defense civilians should access tutoring through this link: https://military.tutor.com/home  (On a phone/small screen, you will need to look all the way to the right under the image to find and click the last box "DoD Civilians")
If your salary is over the cap or you are not a regular hire federal employee, you can access tutor.com services for a fee via this link: https://www.tutor.com/signup?t=t
Can my child talk to the tutor using audio?
Yes! Just be sure to check the box for "Chat + Voice" before you start your session. Selecting the "Chat Only" option means the student will type back-and-forth with their tutor, without audio.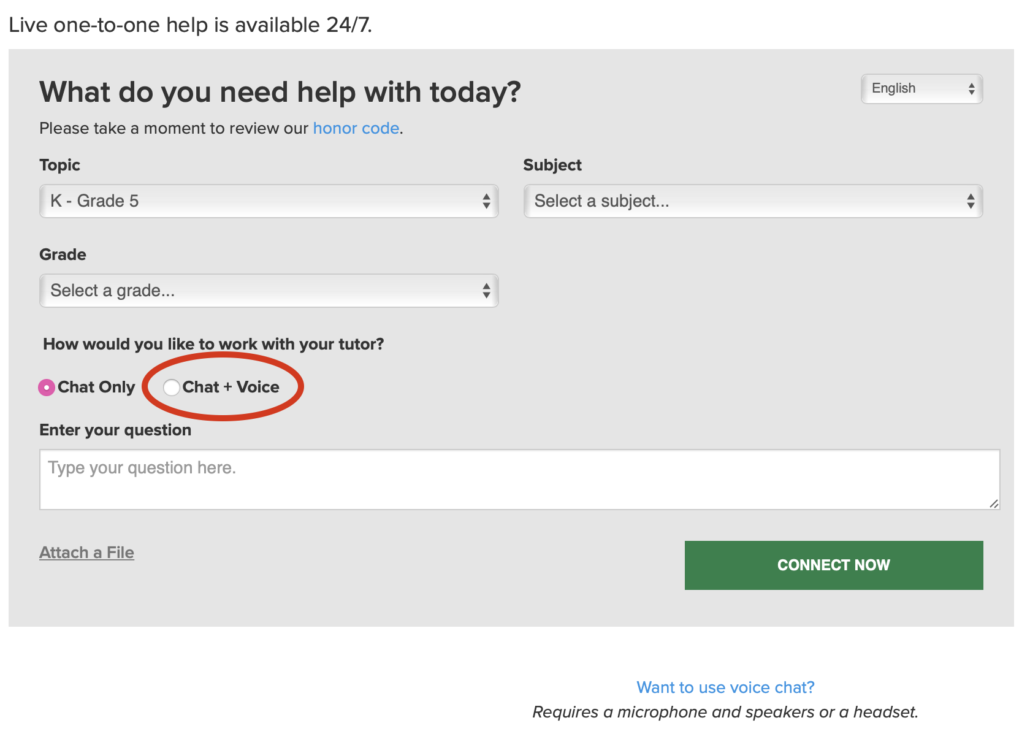 How do I get help with technical issues on Tutor.com?
Why is there a salary limit? Can I still get tutoring for my kids if I'm above the cap?
As with many charity programs, FEEA's tutoring program has limited resources to cover the cost of tutoring sessions, so we are doing our best to make sure lower income feds get served first. Right now, we're able to have a relatively high salary limit of $99,999, but that may not always be possible.
If you are over the salary cap, you can't get tutoring through FEEA's program, but you can sign up for an individual account with Tutor.com, where you will pay for your tutoring sessions directly. Sign up here: https://www.tutor.com/signup?t=t
What subjects are offered?
Grades K-5: Math, Reading, Science, Social Studies, Spelling and Grammar, Writing, English Language Learning, French, German, Spanish, Microsoft Word
Grades 6-8: Algebra, Computer Science (intro), Earth Science, English Language Arts, English Language Learning, French, German, Math, Microsoft (Word, Excel, PowerPoint, Windows), Physical Science, Pre-Algebra, Reading Comprehension, Science, Social Studies, Spanish, Study Skills. 
Grades 9-12: Algebra, Algebra II, Art History and Appreciation, Biology, Calculus, Chemistry, Coding, Computer Science (Intro), Earth Science, English Language Arts, English Language Learning, European History, French, Geography, Geometry, German, Government, Human Geography, Literature, Math (general), Microsoft (Word, Excel, PowerPoint, Windows), Physical Science, Physics, Pre-Algebra, Pre-Calculus, Psychology (intro), Reading Comprehension, Science (general), Spanish, Statistics, Study Skills, Trigonometry, U.S. History, World History, Writing
Advanced Placement® Classes: AP Art History, AP Biology, AP Calculus AB, AP Calculus BC, AP Chemistry, AP Comparative Government and Politics, AP Computer Science A, AP Computer Science Principals, AP European History, AP French Language and Culture, AP German Language and Culture, AP Human Geography, AP Italian Language And Culture,  AP Language and Composition, AP Literature and Composition, AP Macroeconomics, AP Microeconomics, AP Physics 1, AP Physics 2, AP Physics C, AP Psychology, AP Spanish Language and Culture, AP Statistics, AP U.S. History, AP World History
ACT, PSAT, and SAT Prep
Coaching Sessions for Parents: Scheduling and Organization, Setting Expectation, Studying Techniques, Using Resources, Motivation and Goals, Managing Knowledge Gaps, Finding Balance.
Participants in this program also have access to a library of lessons, worksheets, study guides, videos and practice quizzes on a variety of subjects as well on college and state level standardized tests.
Is there a limit to the number of sessions my family can use?
Currently FEEA is not limiting the number of sessions per family. During this launch phase we anticipate offering tutoring through this school year, or June 30, 2021.
Mailing Address
FEEA
1641 Prince St.
Alexandria, VA 22314