How to Prepare for a Long-Distance Move
Organizational Expert Shares Tips to Make Your Next Move a Breeze
The federal government moves over 29,000 employees each year according to data from the General Services Administration. With so many Feds on the move, we wanted to talk to an expert and get their advice on how to prepare for a long-distance move. I recently sat down with Kim Mihalik, founder of The Neat Life, and a professional organizer who has helped a number of State Department employees prepare for, and organize after, international moves.
The 4 Packing Categories
Robyn: Hi Kim! Thanks so much for talking with us about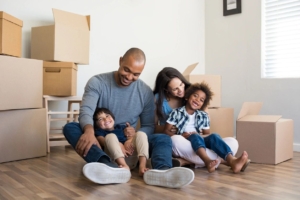 moving across or between countries. Many people have experienced moving across town or even a state or two away. What makes cross-country and international moves different?
Kim: Where to start? With international moves, you generally have to think of packing in four categories:
Immediate Access: Bringing with you in suitcases
Short-Term Access: Arriving via air shipment
Long-Term Access: Arriving via sea shipment
Long-Term Storage: Staying in the U.S.
Then there's the stuff that won't be going with you, that either needs to be sold or donated.
It's important to bring the essentials in your suitcases – and essentials may not be what you expect. For example, you may want to consider packing your food prep knives in your checked luggage, as not all new housing locations will have them.
Moving cross-country is a bit easier: transportation schedules for movers tend to be more predictable, and it's easier to pick up any needed items (at stores you're familiar with) upon arrival. That being said, a cross-country move still requires a lot of prep work – many of the tips for international moves will still apply.
What to Bring and What to Store
Robyn: So how does someone decide what to take, store, sell, or give away? Does that change if you'll be renting out your house or apartment in one state or country while you're in another? What if you have kids or teens?
Kim: If you are renting out your house or apartment, the possibility of long-term storage becomes a bit easier, especially if you have a lockable storage area available. If you are renting it furnished, then you may want to leave some bulkier furniture (i.e., a piano) as part of the rental. However: make sure you're comfortable with anything that's left behind in a rental incurring some wear and tear, or possibly needing to be replaced due to damage. Do not leave any sentimental items as part of a rental!
Some organizations also provide long-term storage in the U.S. If you know your destination will supply furniture like dining room or bedroom suites, I'd consider putting those items in long-term storage – especially if you're not renting out your home furnished. I'd also consider putting irreplaceable family heirlooms (i.e., grandma's china) in long-term storage; anything you'd be devastated to find damaged in a move.
Consider bringing along smaller, lighter-weight, durable items that will help your new space feel like home and will be easier to ship.
Some ideas: a small bar, small end tables, durable table lamps, décor items, family photos, hanging artwork. Linens, pillow covers and small rugs are small things that can make a big impact in making a new place feel familiar. I'd consider donating or selling (online groups like neighborhood Facebook groups and Buy Nothing are great for this!) items that your family doesn't use frequently, your kids may have aged out of, or that you will very likely be able to get elsewhere for little reinvestment (i.e., small furniture from IKEA).
Orchestrating the Packing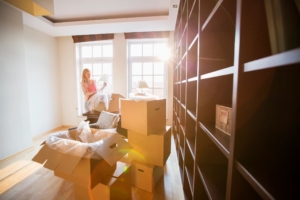 One idea for beginning to think through this: buy a multi-color packet of small dot stickers, and assign a color to each category. Go through each room, and review each item. If you get stuck on what category it should be, think about: frequency of use, weight, how much space it takes, durability, replaceability – and does it make your place feel like home? Hopefully, asking yourself these questions will help guide your decision. Once you determine a category, put the sticker on it. When you're done, create a paper or digital list (tip: use tabs on a spreadsheet for each category) and go through each room looking for the dots to build your lists. At the end of this exercise, you will be able to see how much stuff you have to sell/donate, and whether or not you need to do more editing of your other categories.
A week before your scheduled move date: clear out some spaces (like a dining room) and begin to physically separate items. You should have an air shipment room and a sea shipment room. Put items that need to be packed for each category in the correct room.
For kids: I'd suggest packing some special items (i.e., a prized stuffed animal and toy) in their suitcase – definitely key electronics with their chargers – along with country-appropriate socket adapters. Depending on the child, you may also want to include some "reusable" toys like a small bag of Legos, so they can have an easy creative outlet. Teenagers will likely need their small electronics (i.e., phone, video games), in order to stay connected with friends.
Staying Ahead of the Move
Robyn: Why is being extra-organized important for these types of moves? What are the top three things people should focus on to make the move go smoothly?
Kim: I'll just say it: no matter how organized you are, moves are stressful! So give yourself (and your family members) permission to experience certain feelings around that. Sometimes just taking a 5-minute time-out is enough to "hit the reset" button and move forward. That being said, there are a lot of things you can do to help reduce the stress, and some of that has to do with giving yourself enough time to feel prepared.
Create a Timetable. Everyone's timetable is different, sit down with a calendar and block out your prep time – then add a week of extra buffer. Sometimes unexpected life stuff happens (someone gets sick, a car needs repair), and building in that extra time will be a life saver.
Extra-Organized. For international moves being extra-organized is important because making adjustments or buying last-minute items in a new country can be completely different or downright impossible. What do you do if you're used to making a quick "Target run" and there is no Target? What if you get to a store, and don't know how to communicate what you need in another language? Taking the time on the U.S. side to get prepared can really help you on the other side of the move.
Think Critically. Just like folks tend to overpack for a vacation trip, folks can also overpack for an international assignment. If you have duplicative items (I'm looking at you, outdoor grills, bicycles, coolers, gym equipment, kitchen appliances) ask yourself: do you really need to bring all of them? Every item you bring needs to earn its place in your shipment plan. If you're bringing duplicates of items, there should be a very good reason for that choice.
Online Tools
Robyn: Are there tools people can use to help get themselves organized before a move?
Kim: Yes! Here are some of my favorite tools:
An online (think Google Drive or Dropbox) "Big Move" folder, so all info related to the move can be accessed by all family members
An online spreadsheet like Google Sheets for keeping track of your inventory and to-do lists
Phone or Amazon Alexa alarms/reminders to audibly remind you about important tasks ("Siri, remind me on June 1st to schedule the donation pickup for August 1st"). In my experience, there can never be too many reminders about important tasks.
Use online resources like local buy/sell groups and donation pickup scheduling to make decluttering easier.
If you're in charge of packing up boxes, I'd recommend using a packing app like Moving Organizer Pro to keep track of what's in your boxes. You can print out a PDF of all your boxes, so you can easily find the right boxes when you unpack!
Questions to Ask
Robyn: For federal employees, overseas moves are often part of their job duties, so their agency may take care of some of the logistics, but they may also be responsible for some. What are the major logistical items feds might want to make sure they clarify responsibility for?
Kim: Some questions to ask:
Do they provide the housing, or do you need to find it yourself?
Will they ship your vehicle? Can you bring a left-hand drive car? Tip: find out if it can be easily maintained there. These questions will drive your decision to keep & ship your current car vs. selling it before your move.
Do they provide furniture? If so, is it possible to find out what pieces they will provide?
What are the weight limits for each type of shipment?
Find out what moving company AND destination will and will NOT accept (i.e., no unopened food in air shipments).
Will they provide a handyman for hanging artwork?
Do they provide a welcome box? For federal employees stationed abroad, your embassy may provide a welcome kit that functions like a temporary loan of needed home items (i.e., kitchen dishes and cookware, bed and bathroom linens, etc.). I would suggest that you check with your General Services Officer (GSO) to see if a kit will be available, and if so, when it will be delivered and what it generally contains. That may allow you a few less items to worry about — especially those first few days and weeks in country.
Making Your New House a Home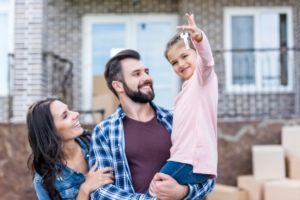 Robyn: Once you arrive in a new place, what's the fastest way to make your new house feel like home? Anything special to help kids adjust?
Kim: I'd suggest putting out any décor items you brought with you in your luggage. One idea: have a "signature scent" for your home, and bring it along in your luggage in the form of some small candles. When you arrive, you can light them and immediately your new place will smell like home. You can also go on a hunt for a favorite ice cream place (happy hunting!) and check out some local parks.
For the littles, I'd recommend reading some books or watching some movies/YouTube videos about your new country. Sharing any pictures of your new house (and their new room!) can help them feel more prepared and excited about the moving adventure. If one spouse arrives in country ahead of time, they can prepare a scavenger hunt around the house, for a fun activity when the kids "meet" their new home.
Organizing the Move-In
Robyn: Any tips for tackling whole house organization as you unpack?
Kim: If you have the space, I'd keep "non-critical" items like books, décor, and off-season clothing packed in boxes as long as possible. Go through the house, and try your best to assign homes for different items (i.e., "office supplies", "board games", "pots & pans") and put stickies on the storage areas. Expect that some of these will change, but at least you will have a starting place.
I then recommend unpacking and trying to keep like items grouped together. Then put the group in their assigned home. If you can't find something (i.e., favorite sandals), you have a much better chance of finding it if it's in its proper category (i.e., shoes).
Practical Last Minute Tips from the Pro
Create an "off limits" area from packers (i.e., a bathroom) and keep your personal stuff in there: suitcases, purses, dog stuff, TV peripherals, VIP documents, etc.
Pre-pack anything you've kept the box for (i.e., TV) ahead of time.
Make sure you bring enough professional clothes for a month in your luggage.
Wash out your trash cans – they need to be ready to be moved – make sure everything is clean and dry.
Liquids: tape them down, put them in a lidded plastic container with a towel.
Separate food & cleaning products – the smell of one can transfer to the other!
Try to eat up food products. For any leftover food & plants: donate non-perishables, then a couple of days ahead of the move order pizza and have a "take what you want" party with friends.
Keep your "VIP" documents (i.e., birth certificates, passports) and your real jewelry on your person. You want to be able to easily keep an eye on them!
Insurance: make sure to update your personal property and auto insurance.
USPS: sign up for mail forwarding, before changing your credit card billing address.
Phone: sign up for a plan that has international calling and texts.
Budget for $5,000-10,000 of unexpected expenses (i.e., car doesn't arrive for 5 months):
Pack a gallon-size Ziploc "organizing bag" in your checked luggage with:

Post-Its
Sharpie-type pens of various sizes
a measuring tape
a pencil wrapped with a small amount of duct tape/electrical tape/masking tape
small stapler
a stash of rubber bands and paper clips
a small multi-tool (pocket knife/screwdriver/pliers)
a variety of Command hooks – especially heavier-weight ones for quickly hanging a robe or jacket
Kim: And of course, start decluttering early, and reach out to a professional organizer if you could use some assistance. We really love to help people with these tasks!
Robyn: Kim, thank you so much for taking the time to talk moving and organization with us. We hope these tips will help anyone getting ready to move, whether it's across town or around the world.
Would you like to receive more information like this when it comes out? Sign up for the FEEA newsletter.
Would you like to reprint this piece in your agency human resource, federal employee association, or union local newsletter? You can do so at no cost by contacting admin@feea.org with your request.
The information provided in this piece is for your convenience and informational purposes only and not to be construed as professional advice. FEEA and its coauthors and sponsors are not liable for any losses or damages related to actions or failure to act with regard to the content in this piece.